You got your friend or uncle to officiate your wedding. They know you. They don't know weddings. Now what?! Are you prepared for the 100's of decisions you will have to make about your wedding day details? Now what?!
Wedding day details you'd never think of:
when & where to get married; finding wedding pros
tons of ceremony ideas; some never posted anywhere before
ways to make the reception even better
With 11 hand-drawn illustrations + 11 custom diagrams + 225 photos + 70 Pro Tips!
It's a completely customized script – their wedding party (in order!), their unity element, their vows and readings, etc. – with NO effort on your part.
The couple – not you – fills out the information in the form. Everything you need to say is in the script.
When the couple buys The MasterCourse, they can share it with you – for free. So, you get to see how to do, say, Unity Beer.
Result? You conduct an organized, personalized and fun ceremony that everyone loves!
How Do You Plan Out a Ceremony?
You have no idea. No couple does.
The Knot's "all-in-one wedding planner" has a checklist, help with vision and a budget tool. Very little about the ceremony. Same for WeddingWire. Now where do you look for help?
America's Wedding Expert™, Rev. Phil Landers, has wedding day details you'd never even think of – many are exclusive pro tips. All are in The MasterCourse.
There are so many details you don't even know that you should know. Want Want proof? Click on the plus signs (+) below.
Where should you get married – in a church (or other house of worship) or at the reception site? What's another option?

When – which season or month? Which day of the week? Indoors or outside?

What's with the rehearsal – who comes, how long, when should it be? What's with the rehearsal dinner?

How do you find the right wedding professionals? What's the right order to hire them? What do they cost? What should I ask of them?
Do a First Look or not have the groom see the bride until she walks down the aisle? What do you give up doing it each way?

Who is in the processional anyway? What's the order? How am I supposed to know? Where does everyone sit during the ceremony?

Unity candles and the outdoors don't mix – what are the alternatives? Which is best? What do I need for it?

How can your guests feel your love? How can guest be

included

in the ceremony – not just bored observors?
The line for drinks right after the ceremony is always so long. How do you get drinks in your guests hands quicker?

Why you shouldn't use numbers to label the tables where guests sit for dinner. Better ways to express your personalities

Who does the toasts? What should they say (and how to avoid toasts that will embarrass you)? How can they be heard by everyone?

You know how your feet hurt at weddings after a lot of dancing. How can you help your guests avoid that?
Rev. Phil Landers is America's
Wedding Expert
Rev. Phil officiated Danielle & Nick's wedding
Rev. Phil officiated Mallory & Sal's wedding
Rev. Phil has officiated over 1200 weddings
What Will You Learn In The MasterCourse?
When & Where to Get Married + Rehearsal
When Should We Get Married?
Non-boring ceremony sites + one where you can be barefoot
The one thing you need to have to be sure the bride's hair and make-up doesn't get messed up – and it's free!
When Should We Schedule The Rehearsal (And Rehearsal Dinner)?
When is a great – and greatly overlooked — time
One less thing to worry about on your wedding day
How to avoid having the hosts (usually the groom's parents) be frustrated with it starting late
Best Fit-For-You Wedding Pros: What To Look For, What To Ask For
"Rev. Phil had such extensive knowledge about weddings that I would only expect from a high paid wedding coordinator. He knew about my wedding party placement, how to set up and stage so that we got the best shots from the photographer and so much more. This was better than I ever imagined."
— Jeanna & Bernardo, Tamarack Golf Club, Naperville, IL
The Ceremony
(for officiants, too)
Who Is In the Processional? With Tips
What EQUIPMENT Do You Need For The Ceremony?
What Are The Components Of A CEREMONY?
Cocktails And Hors D'oeuvres
Why you should alert guests if you're having a dessert bar.
3 suggestions – which one is most effective?
It's not about your favorite type of music at this time.
The Sit-Down (Dinner) Part Of The Reception
How to provide relief for every guest.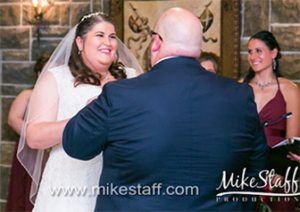 "Rev. Phil is super organized, friendly, and really focuses on the details of the ceremony that you would never even think of  . It takes a lot of the stress out of planning a wedding Our ceremony was phenomenal. It was so much better than we expected."
-Holly & Jeff, Royalty West Banquets, Willow Springs, IL
Most of the 27 courses are $20.
Some are lower, a few are higher.
Pick and choose what matters most to you.